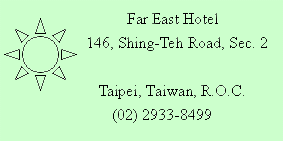 December 5, 2000
OSCAR LTD.
4F No. 227 Pa-Teh Road Sec. 4
Taipei, Taiwan
Attention: Miss Evon Villas
Dear Miss Villas:
SUBJECT: COMFIRMING SEMINAR ARRANGEMENTS
With regard to your 3-day seminar from January 10-12, I am writing to inform you that we have made necessary
arrangements in accordance with our telephone conversations on December 10 and 18 respectively. The number of the
participants is 130 people. Therefore a reservation of 70 double-bed rooms will be made for your guests. A conference
room that is able to contain 150 people is also reserved for this event.
In addition to accommodation, we will offer dessert and cocktail at no extra cost during the seminar.
We also remind you ofthe VIP Banquet after the seminar. The cost is NT$1000 per person including
tax and service charge. This is all about the inquiry you claimed during our discussion. Please contact
me before the end of December, if any modification or discrepancy is needed. Enclosed is the agenda
of the seminar for each day.